EcoFlow Delta 2 portable power station 1024Wh
Free delivery for orders over ~85 €
Fast delivery

          
Price:
1,111.48€
(875.18€ + VAT)
Warranty
60 month
Average Rating:
Not Rated
Manufacturer:

Model:

MN-2808483

Availability:

External stock

Expected delivery:
October 06, 2023
Shipping fee:
Free

A Power Stationnek köszönhetően sehol sem maradsz energia nélkül. Vidd magaddal ezt a power stationt és maradj mindig feltöltve.
Ingyenes szállítás 30.000 Ft feletti rendelés esetén (mobil)
Fast delivery

          
Description
EcoFlow Delta 2 - Power Station
Az EcoFlow DELTA 2 egy hordozható erőmű, amely lehetővé teszi, hogy felkészüljön az előre nem látható körülményekre. Nagy kimeneti teljesítményével a legtöbb eszközének áramellátását biztosítja, ha kifogy az áram, vagy kempingezni megy. Az X-Stream technológia lehetővé teszi a gyors töltést, az EcoFlow alkalmazás pedig kényelmes hozzáférést biztosít a legfontosabb funkciókhoz és beállításokhoz. Az állomást 1024 Wh kapacitás jellemzi, amely további akkumulátorokkal bővíthető. Ugyanakkor a DELTA 2 meglepően könnyű és könnyen szállítható. Emellett többféleképpen is tölthető.
Nagy kapacitás bővíthetőséggel
Bízzon abban, hogy nem fog kifogyni az energiából az eszközök működtetéséhez. A DELTA 2 kapacitása 1024 Wh, ami bőven elegendő az alapvető szükségletek kielégítésére. Még többre van szüksége? Nem probléma! Az állomás kapacitását akár 2048 Wh-ra is bővítheti egy külön kiegészítő akkumulátorral, vagy akár 3040 Wh-ra a DELTA Max számára készített akkumulátorral. Ez a tökéletes megoldás, ha áramszünet esetén is biztosítani szeretné a kiválasztott eszközök hosszú távú működését!
Fejlett technológia
A terméket 1800 wattos kimeneti teljesítmény jellemzi, ami azt jelenti, hogy az általánosan használt háztartási készülékek mintegy 90%-át könnyedén ellátja energiával. Hűtőszekrény, mikrohullámú sütő és még kávéfőző is - a DELTA 2 nem hagyja cserben. Ráadásul a rendelkezésre álló konnektorok, mint például AC, USB-A és USB-C, sokasága azt jelenti, hogy akár egy tucatnyi eszközt is csatlakoztathat egyszerre az állomásra. A túlterheléstől sem kell tartanod. Az X-Boost technológiának köszönhetően a DELTA 2 akár 2200 wattos berendezéseket is könnyedén kezel.
Még gyorsabb töltés
Ne várjon túl sokáig, amíg a DELTA 2 újra működőképes lesz! Az állomás támogatja az X-Stream technológiát, így akár 7-szer gyorsabban tölt, mint más hasonló készülékek. A töltés 80%-ra történő feltöltése mindössze 50 percet vesz igénybe egy hálózati csatlakozó segítségével. Az energia 100%-át már 80 perc elteltével visszanyeri! Mi több, a továbbfejlesztett akkumulátort akár 6-szor hosszabb élettartam jellemzi - körülbelül 10 évig használhatja (3000 töltési ciklus), mielőtt kapacitása 80%-ra csökkenne. Biztonságos és hatékony működéséért egy fejlett BMS rendszer felel.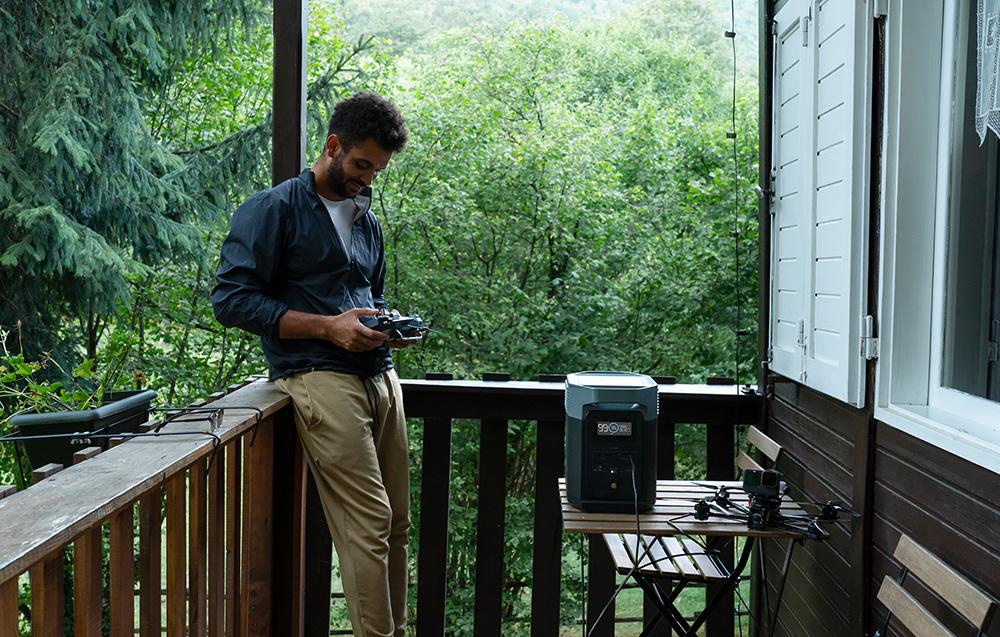 Zöld energia használata
Az állomás töltéséhez ingyenes, nyilvánosan elérhető napenergiát is használhat. Csak kombinálja hordozható napelemekkel (1x 400 W vagy 2x 220 W). Így a DELTA 2-t körülbelül 3-6 óra alatt töltheti fel! A készülék intelligens MPPT (Maximum Power Point Tracking) algoritmust is használ, így képes a feszültséget és az áramot aktívan, valós időben érzékelni, hogy akár 98%-os hatékonysággal elérje a maximális teljesítménypontot. Ez még nagyobb töltési hatékonyságot jelent!
Továbbfejlesztett kialakítás
Bet on superior build quality. The DELTA 2 is extremely durable and resistant to damage, so you can use it in almost any situation without worry. Despite its great capabilities, it is also surprisingly lightweight - it weighs only 12 kg, which makes it much easier to transport. A special waterproof bag is also available for sale separately, which will allow you to use the station even in the rain. At home, in the garden, fishing or under a tent - DELTA 2 will provide the energy you need for your equipment in almost any conditions!
Távvezérlés az EcoFlow alkalmazással
Még kényelmesebb az erőmű üzemeltetése? Most már lehetséges! Mindössze annyit kell tennie, hogy használja az EcoFlow alkalmazást, amely ingyenesen letölthető a Google Play és az App Store áruházból. Segítségével a DELTA 2 készüléket Wi-Fi-n vagy Bluetooth-on keresztül vezérelheti. Könnyedén ellenőrizheti az energiaadatokat, beállíthatja a paramétereket és szükség szerint beállíthatja a töltési sebességet. Többé nem kell minden alkalommal a készülékhez sétálnia - mostantól mindig minden fontos dolog kéznél van!
További képességek
A DELTA 2 csak a kezdet. Ha szeretné, kombinálja más EcoFlow termékekkel, és még több lehetőséget kap! Napelemek, kiegészítő akkumulátorok - a választás az Öné. Az állomás EPS vészhelyzeti áramellátási funkciót is kínál. Ez azt jelenti, hogy áramkimaradás esetén automatikusan elkezdheti a csatlakoztatott eszközök energiaellátását. Ez ideális megoldás, ha fontos Önnek a kiválasztott berendezések folyamatos működése - a helyzettől függetlenül. Megjegyzés: A DELTA 2 képes EPS-ként működni, de nem UPS-ként (0 ms késleltetés) - ne csatlakoztasson hozzá olyan eszközöket, amelyek ilyen típusú vészhelyzeti áramellátást igényelnek. 
Műszaki adatok
Tömeg

12 kg

Méret

400 x 211 x 281 mm

Működési hőmérséklet

-20 to 45°C

Töltési hőmérséklet

0 to 45

°C

Bemenetek

AC töltés, 1200W; Napelem töltés, 500W Max, 11-60V, 15A; autós töltés, támogatja 12V/24V akkumulátorokat, 8A.

Kimenetek

4 x AC, 1800 W, X-Boost 2400 W;
2 x USB-A, 5V, 2.4A, 12W Max ; 2 x USB-A Gyorstöltés;
, 5V, 2.4A / 9V, 2A / 12V, 1.5A, 18W Max;
2 x USB-C, 5 / 9 / 12 / 15 / 20V, 5A, 100W Max;
1 x autós kimenet 12.6V, 10A, 126W Max; 2 x DC5521, 12.6V, 3A

Tanusítványok

CE, FCC, RoHS, UL PSE Standard

Akkumulátor kapacitás

1024 Wh(50.4V)

Akkumulátor élettartam

3000 töltési ciklus (kapacitás 80%+)

Akkumulátor típus

LFP (LiFePO4)

Töltési idő

AC bemenet- 80 perc, 1200W Max;
Okos generátor - 80 perc, 1100W Max;
Napelem - 3-6 óra, 1 x 400W / 2 x 220W;
Autós töltő - 11 óra, 96W
Parameters
| | |
| --- | --- |
| Size | 400 x 211 x 281 mm |
| Capacity | 300000 mAh |
| Storage | External warehouse |
| Weight | 12000 g |
| Wireless | No |
Calculator
DO YOU WANT TO KNOW HOW MANY TIMES CAN YOU CHARGE YOUR PHONE WITH THIS POWER BANK?
---
Enter the battery capacity of the device you want to charge, and we will calculate that how many times you can charge your device from 20% to 100% with this power bank with a singe charge.
If you do not know the battery capacity of your phone / tablet, you can check it at www.gsmarena.com

Your device battery capacity (mAh):

This is the number of times you can charge your device::

---
Reviews
There are no reviews for this product.