EcoFlow River 2 Power Station 256Wh
Free delivery for orders over ~85 €
Fast delivery

          
Warranty
60 month
Average Rating:
Not Rated
Manufacturer:

Model:

MN-2808442

Availability:

External stock

Expected delivery:
September 29, 2023
Shipping fee:
Free

A Power Stationnek köszönhetően sehol sem maradsz energia nélkül. Vidd magaddal ezt a power stationt és maradj mindig feltöltve.
Ingyenes szállítás 30.000 Ft feletti rendelés esetén (mobil)
Fast delivery

          
Description
EcoFlow River 2 - Power Station
Biztosítson megbízható áramforrást készülékei számára. Az EcoFlow RIVER 2 hordozható tápegység 256Wh kapacitásával tűnik ki, és a legtöbb népszerű készüléket képes ellátni energiával. Kimeneti teljesítménye eléri a 300W-ot, az X-Boost technológiának köszönhetően pedig akár 600W-ot is képes leadni. A termék támogatja a gyorstöltést is - körülbelül 60 perc alatt 100%-ra tölthető fel! Ráadásul az állomás meglepően könnyű és hordozható, és kényelmesen kezelhető egy erre a célra kifejlesztett alkalmazással.
A legtöbb népszerű eszközt képes táplálni
Nem számít, hogy milyen eszközöket szeretne ellátni árammal - a RIVER 2 nem hagyja cserben! Az állomás kimeneti teljesítménye akár 300W is lehet (AC konnektor). Az X-Boost technológia előnyeit is kihasználhatja, amelynek köszönhetően a termék akár 600W-os berendezésekkel is megbirkózik. Mindezek révén a RIVER 2 képes a leggyakrabban használt eszközök, például laptop, lámpa vagy turmixgép áramellátására.
0%-ról 100%-ra egy óra alatt
Tapasztalja meg, milyen gyorsan újra használatra kész lehet az állomása. A RIVER 2 támogatja a gyorstöltést - egy konnektor segítségével mindössze egy óra alatt 100%-ra töltheti fel! Terepjáró túrára indul? Vagy lakóautós utazást tervez? Csatlakoztassa a töltőállomást, és máris csomagolhat. Mire végez, a RIVER 2 teljesen készen áll majd arra, hogy kiszolgálja Önt!
4 módon töltheti fel
Töltse fel az állomását úgy, ahogyan szeretné. A RIVER 2 akár 4 töltési módot is támogat, így számos forgatókönyvhöz kiválóan használható. Például csatlakoztathatja hálózati konnektorba vagy használhat autós töltőt. Lehetőség van a nyilvánosan elérhető, környezetbarát napenergia használatára is - a fotovoltaikus panelek segítségével körülbelül 3 óra alatt töltheti fel az állomást. A RIVER 2 egy vadonatúj módot is kínál az USB-C-n keresztüli töltésre.
Megbízható akkumulátor
A RIVER 2 évekig kiváló befektetés - sokáig jó szolgálatot tesz. Továbbfejlesztett LFP akkumulátorral van felszerelve, amely lenyűgöző élettartamával tűnik ki. Segítségével akár 3000-szer is teljesen feltöltheti és lemerítheti az állomást! Ez körülbelül 10 évnyi használatot jelent. Az LFP-cellák használata ráadásul garantálja a készülék hatékony és biztonságos működését - még magas hőmérsékleten is. Az akkumulátor megbízható működéséért egy fejlett BMS rendszer is felelős.
Mindig kéznél van
Piknikezni megy? Grillezést szervez? Vagy esetleg sátras kirándulást tervez? Vigye magával a RIVER 2-t, és élvezze a kényelmes áramellátást, bárhová is megy! Az új EcoFlow állomás akár 30%-kal könnyebb, mint az előző generációs készülékek - súlya mindössze kb. 3,5 kg. Emellett praktikus fogantyúval is fel van szerelve, ami sokkal könnyebbé teszi a szállítását.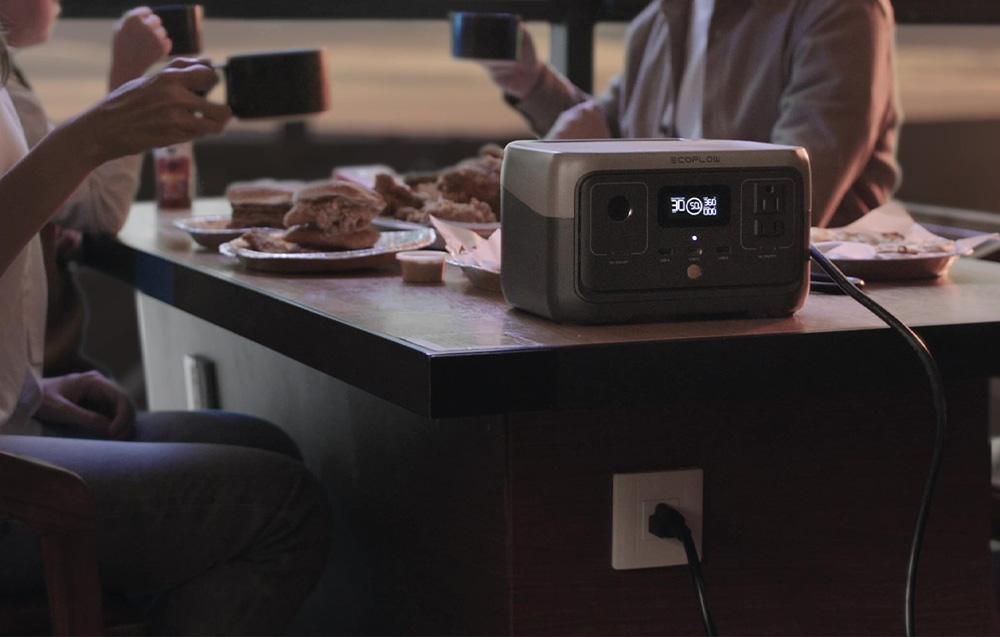 EPS funkció
Bizonyos helyzeteket nem lehet előre jelezni, de fel lehet készülni rájuk. Az EcoFlow RIVER 2 állomás az Ön vészhelyzeti áramellátásához is jól jön - az EPS funkciót is képes ellátni. Ez azt jelenti, hogy áramkimaradás esetén a termék körülbelül 30 ms alatt megkezdi a csatlakoztatott berendezések, például egy CPAP-készülék, lámpa vagy akvárium áramellátását. Ezáltal nyugodt lehet, hogy az Ön számára fontos eszközök szinte bármilyen helyzetben működni fognak!
Teljes körű vezérlés az EcoFlow alkalmazással
Now you can conveniently control your power station from a distance. All you need to do is use the EcoFlow app, which you can find, for example, in the App Store or Google Play store. With its help you can easily check charge levels, adjust settings and change charging speeds. The RIVER 2 connects to your smartphone via Bluetooth or Wi-Fi. With EcoFlow, everything you need is at your fingertips!
Műszaki adatok
| | |
| --- | --- |
| Márka | EcoFlow |
| Név | River 2 |
| Szín | Fekete |
| Anyag | Alumínium ötvözet + műanyag |
| Kapacitás | 256Wh |
| AC töltési bemeneti teljesítmény, X-Stream | 220-240V~ 50/60Hz, 8A max. |
| AC töltési bemeneti feszültség | 220-240Vac (50Hz/60Hz) |
| Napelemes töltés bemenet | 11-30V 8A, 110W max. |
| AC kimenet | 300W (pillanatnyi 600W) |
| USB-A kimenet | 5V 2.4A 12W max /port |
| USB-C kimenet | 5 / 9 / 12 / 15 / 20V 3A, 60W max. |
| Autó hálózati kimenet (x1) | 12.6V 8A, 100W max. |
| Akkumulátor típusa | LFP |
| Az akkumulátor élettartama | 3000 ciklus (80%+) |
| Kisütési hőmérséklet | -20°C és 60°C között +/-3°C között |
| Kapcsolatok: | Wifi, Bluetooth |
| Töltési hőmérséklet | 0°C és 45°C között +/-3°C |
| Súly | 3,5kg |
| Méretek |  245x214x142mm |
| Tanúsítványok | FCC, CE, ROHS, MSDS, UN38.3, UL, PSE |

Csomag tartalma
River 2

AC töltő kábel
Kábel az autós töltő csatlkoztatáshoz
Parameters
| | |
| --- | --- |
| Size | 245x214x142mm |
| Capacity | 69000 mAh |
| Storage | External warehouse |
| Weight | 3500 g |
| Wireless | No |
Reviews
There are no reviews for this product.